Laugh After Dark Is Back in Production! This time, cameras and laughs will be rolling in Downtown LA on June 30.
A Laugh After Dark is partnering with THC Design for an elevated night of comedy with a live show and filming in Downtown LA. Hosted by Laugh After Dark's own Kalea McNeill, this exclusive event boasts a fire lineup including David Studebaker, Kiki Andersen, Renaldo Evans, and Monique Flores. With an invite-only guest list, attendees can expect a memorable evening complete with complimentary gift bags, refreshments, and a top-secret speakeasy setting. However, this exclusive event has limited seating, so if you want to attend, you must sign up for the Laugh After Dark VIP email list to receive your invitation and ticket link.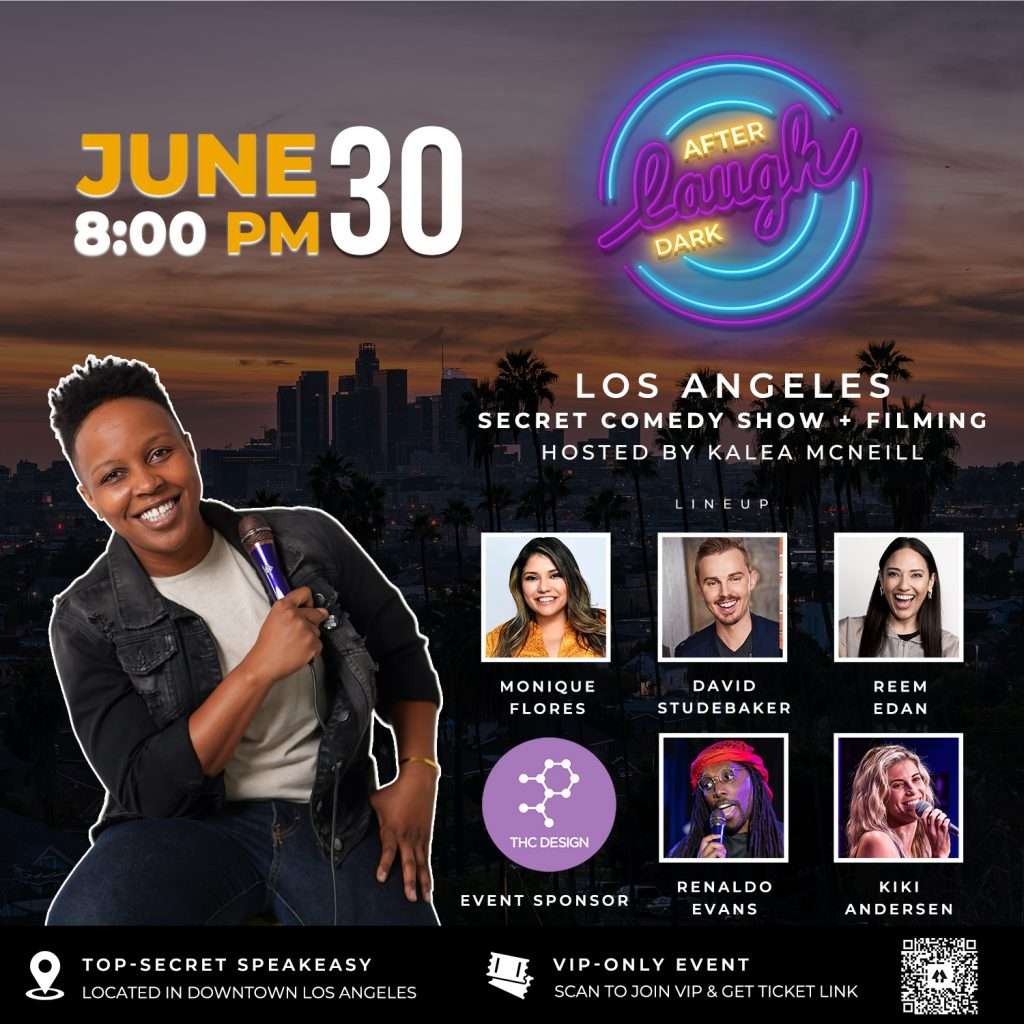 THE EXPERIENCE
Charlie Wilson, the official host of Laugh After Dark, takes the helm as the host of the LA live show. Laugh After Dark, in collaboration with THC Design, has created an unforgettable experience for comedy lovers. Attendees will receive all location and event information on the afternoon of June 30. The limited seating ensures an intimate setting, allowing for an up-close and personal vibe for this unique comedy experience.
Guests will receive a complimentary gift bag upon entry, filled with goodies and surprises that add an extra touch of excitement to the evening. In addition, refreshments will be provided, allowing attendees to sit back, relax, and enjoy the show without a care in the world.
HOW TO SECURE YOUR SPOT
Due to the limited seating capacity, securing a ticket for this laughter-packed event requires signing up for the Laugh After Dark VIP email list. By joining the list, you will receive an exclusive invitation via email, containing the coveted ticket link. This ensures that only those who are truly passionate about comedy get the chance to attend this unique and unforgettable event.
TO SUM IT UP:
On June 30, Downtown LA will come alive with laughter as the Laugh After Dark live show and filming event takes center stage. With the charismatic Charlie Wilson leading the way and a lineup of comedic talent that includes David Studebaker, Kiki Andersen, Renaldo Evans, and Monique Flores, attendees are in for an evening filled with non-stop hilarity. Thanks to the generous sponsorship of THC Design, guests will also receive complimentary gift bags and refreshments, adding to the overall experience. Remember, seating is extremely limited, so sign up for the Laugh After Dark VIP email list now to secure your invitation and ticket link.