ComedyFest 2023 is not just about punchlines; it's about providing support when and where it's needed most. This year, we're thrilled to announce our partnership with Comedy Gives Back, an organization dedicated to uplifting and aiding comedians in their times of need. In addition, we're honored to recognize Bert & LeeAnn Kreischer and their outstanding contributions to the comedy community at our official awards ceremony.
ComedyFest's Commitment to Comedy Gives Back
ComedyFest 2023 is proud to be a supporter of Comedy Gives Back. That's why a percentage of all fest pass sales for this year's festival will be directly contributed to this remarkable organization. Why? Because we believe in the safety net that Comedy Gives Back provides for comedians.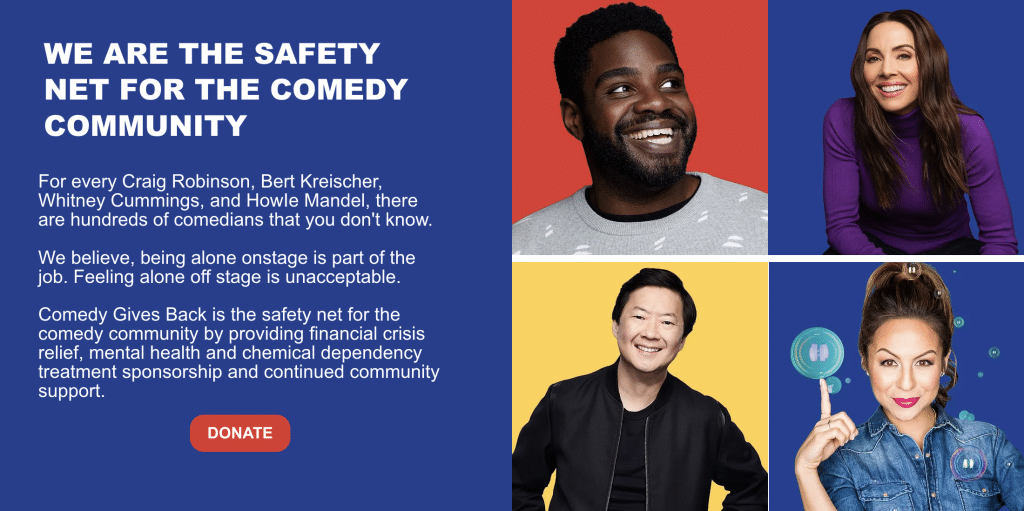 Comedy Gives Back: A Lifeline for the Comedy Community
Comedy Gives Back serves as a vital safety net for the comedy community, offering crucial assistance in various ways:
Financial Crisis Relief: In an industry where unpredictability is the norm, Comedy Gives Back steps in to help comedians facing financial crises. From covering unexpected medical bills to assisting with living expenses during tough times, they ensure that comedians can focus on what they do best—making us laugh.

Mental Health and Chemical Dependency Support: Mental health is a priority, and Comedy Gives Back recognizes that. They sponsor mental health treatment and provide support for comedians struggling with chemical dependency. By addressing these critical issues, they ensure that comedians can thrive both personally and professionally.

Community and Camaraderie: Beyond financial assistance, Comedy Gives Back fosters a sense of community among comedians. They provide a support system that reminds comedians they're not alone in their journey, helping to alleviate the isolation that can sometimes accompany a life in comedy.
Celebrating Bert & LeeAnn Kreischer's Contributions
At the official awards ceremony on Thursday, October 5, ComedyFest 2023 will honor Bert & LeeAnn Kreischer with the first annual Laugh After Dark ComedyFest Comedy Gives Back Award. Bert and his wife, LeeAnn, and their "Fully Loaded Comedy Festival" tour have made significant contributions to the comedy community this year.
A Statement from Jodi Lieberman, Co-Founder of Comedy Gives Back
"When Laugh After Dark Comedy Fest approached Comedy Gives Back to give out an award recognizing significant contribution and dedication to the comedy community, it was without a doubt that we selected Bert and LeeAnn Kreischer, and the Fully Loaded Comedy Festival tour. The tour donated a significant amount to CGB to help fund our various programs so we can continue to help stand-up comedians struggling with mental health issues, chemical dependency, and financial hardships. It also allowed us to launch CGB Healthnet, providing a low-cost alternative to health insurance. The world needs more people like Bert and LeeAnn. Their generosity and creative insights created a huge tour employing many stand-up comedians from up-and-comers to veterans. This tour gave back in so many ways to the comedy community at large. We are so grateful to be in business with this incredible team and look forward to a long-lasting partnership."
– Jodi Lieberman, Co-Founder, Comedy Gives Back
Supporting the Laughter We Love
ComedyFest 2023 is more than just a festival; it's a celebration of the comedy community and a commitment to its well-being. By partnering with Comedy Gives Back and recognizing Bert & LeeAnn Kreischer's contributions, we're joining forces to ensure that comedians have the support and resources they need to continue bringing laughter into our lives.
We invite you to join us in supporting Comedy Gives Back by attending ComedyFest 2023. Every fest pass sold contributes directly to this important cause, reinforcing our collective commitment to the comedy community. Together, we can ensure that laughter remains a powerful force for good.
ComedyFest 2023 is just around the corner, and we can't wait to share the joy of comedy with you. Join us in the Las Vegas Arts District from October 1st to 5th for a celebration of laughter, community, support, and recognition.